New paper on sustainability of small-scale fisheries in Western Ghats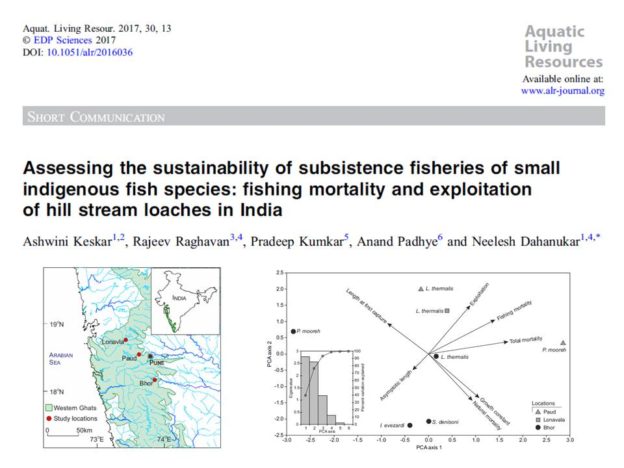 Small, least conspicuous fish species are targeted through subsistence fisheries in many regions of the world, but little is known about their population dynamics or exploitation levels. In the Western Ghats of India, part of a global biodiversity hotspot and an exceptional region of freshwater fish diversity and endemism, several small species of loaches are caught and sold in the local markets by marginalized communities through an unmanaged fishery, resulting in high levels of exploitation. A new paper published in Aquatic Living Resources, co authored by Dr. Rajeev Raghavan, provides for the the first time quantitative information on population dynamics and exploitation levels of small indigenous fish species in tropical rivers indicating their potential vulnerability to over fishing.
A Keskar, R Raghavan, P Kumkar, A Padhye & N Dahanukar (2017) Assessing the sustainability of subsistence fisheries of small indigenous fish species: fishing mortality and exploitation of hill stream loaches in India.